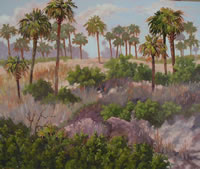 Washington Oaks Palms
20x24 Oil on Birch Panel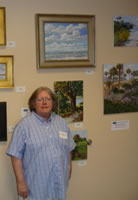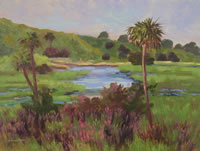 Anastasia
12x16 Oil on Birch Panel
Linda Blondheim
Gainesville, Florida

www.lindablondheim.com
The Southern landscape is diverse and beautiful, particularly working en plein air. Each session presents new challenges including atmospheric conditions, light, wind, rain, biting insects and other elements. I remember each painting experience because they are all unique. I spend most of my painting time in remote areas around Florida, Georgia, North Carolina and Alabama. Painting our remaining natural elements becomes more and more important as our resources continue to disappear.
I also enjoy doing Florida heritage paintings, old plantation homes. Southern Vernacular and historic places.
Painting these places of my childhood and recording my Southern culture and heritage becomes more urgent to me as I see it gradually forgotten by most of the new generation. Wandering the farms, lakes, rivers, fish camps and old towns of the South is my favorite past time. Eating at the cafés and restaurants in off the beaten towns gives me a glimpse of our traditions and provides the best in our regional foods. I grew up in Alachua County and I'm proud to be a daughter of the South.
I paint with oils or acrylics in a loose, painterly method, with energetic brushwork and lush color application. I enjoy both location and studio work. My larger paintings are done in the studio.
I am involved in a long term project, painting North Florida's Rivers. There is nothing more beautiful in Florida than its rivers, coastal marshes and wetlands. I want viewers to see that the most important attraction in Florida is nature, not theme parks.
In my youth I was influenced greatly by Wayne Thiebaud, Anders Zorn, John Singer Sargent, Jim Dine, Joaquin Sorolla y Bastida, Hans Hoffman, Joe Testa Secca, Gilbert Demeza, and Hiram Williams.
The bonus in my career is having known so many wonderful artists and collectors over the years. It is a privilege to be a part of their lives.