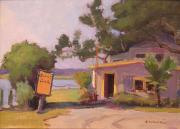 "Genung's Old Florida"
12x9, Oil on Linen
CBPO-230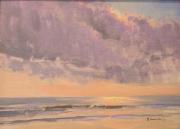 "Another Atlantic Sunrise"
12x9, Oil on Linen
CBPO-232

Click on any picture
to see a larger version.
Robert Simone
St. Petersburg, FL
"Rooted in a modest upbringing which included boating, fishing, drawing and painting with my father, I have grown to prefer simple things and find extraordinary beauty in ordinary places. I am inspired by the natural beauty of Florida's landscape, especially the coastal scenery. "

"Mooring Ball at Low Tide with Fog"
8x6, Oil on Linen
CBPO-233

Born in Cleveland, Ohio in 1957, Robert Simone studied art at Ohio University before moving to Florida in 1981. He earned a BSCE from University of South Florida in 1992, owned a successful landscape business and worked as a charter boat captain. Having renewed a passion for oil painting in 2000, Robert studied with several renowned artists including Scott Christensen, Clayton Beck and Anthony Ryder. His paintings reside in numerous private and corporate collections. Robert is also a respected instructor teaching classes and workshops at home and abroad.
2009 Forgotten Coast Plein Air Invitational (second year participating)
2009 Florida's Eden - Dudley Farm Paint Out
2009 Wekiva Springs Paint Out
2009 Boca Gardens Plein Air Auction Boca Grande, FL
2009 Art of Giving - Plein Air Benefit of Daystar Life Center, Event Organizer