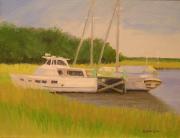 "On Ridrigues Creek"
14x11, Oil on Panel
CBPO-94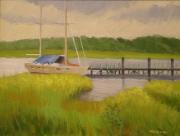 "Oyster Creek Marina"
14x11, Oil on Panel
CBPO-107

Click on any picture
to see a larger version.
Robert Rohrich
Palm Coast, FL
"I enjoy painting out doors even with all of the distractions. The sun moves, the clouds move, the rain comes at you, and bugs pester you. Each painting is a challenge but still the thrill and satisfaction of capturing your scene is special and exhilarating."
www.fineartamerica.com/profiles/robert-rohrich.html

2009 Solo Exhibition Island Fine Art Gallery
2008 Featured Artist at The Gallery Of Local Art