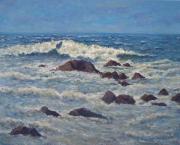 "Vilano Beach"
30x24, Acrylic on Canvas
CBPO-250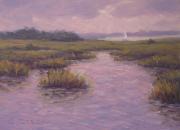 "Marsh at St. Augustine"
12x9, Acrylic on Canvas
CBPO-127

Click on any picture
to see a larger version.
Christophe Cardot
Edgewater, FL
"Working in Oil Pastel on various surfaces, I use the Golden Ratio to create the composition of my landscape paintings. I find inspiration in nature, from the Impressionist palette and Pointillist technique. My greatest desire is to respect the quality of light, mood and tonality in my work. "

"The Bench at Anastasia Park"
36x24, Acrylic on Linen
CBPO-251



"View from the Fountain of Youth"
14x10, Acrylic on Linen
CBPO-304

Leaving his native France in 2003, Christophe arrived in Florida, where he decided to achieve his dream of a full time art career. Primarily a self-taught artist, he has studied with Florida artists. During his honeymoon in Key West, he realized that he had found his spiritual home in Florida, with its warmth, color and intense light.

Plein air painting is his preferred method of painting, as he feels there is no better way to capture the hidden colors of nature revealed by the changing light. His paintings can be found in collections throughout the United States and Europe. He is also teaching pastel classes in Florida and workshops in USA and France.
Award of Distinction, Bonita Spring National Art Festival
Best of Show, Art League of Daytona Beach Annual Members Exhibition
Best of Show, Artist Workshop "Painting the Hours" New Smyrna Beach
Award of Excellence, International Exhibit, Sierra Pastel Society, California
1st Honorable Mention, Oil Pastel Society of Maine