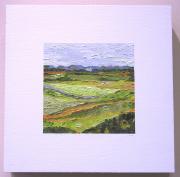 -- AWARD OF MERIT --
"Marsha Marsha Marsha"
10x10, Oil on Wood Box
CBPO-99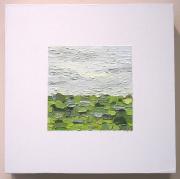 "Dune Walk"
12x12, Oil on Wood Box
CBPO-100

Click on any picture
to see a larger version.
Lynn Whipple
Winter Park, FL
"The simple beauty of the play of light on all things outdoors, has been a lifelong source of pleasure for me. It is my hope, through oil painting , to share that joy with others."
Lynn Whipple is a nationally known Mixed Media artist. For the past 17 years, her work has been show in museums, galleries and juried shows across the county. Lynn's artwork has been featured in over 20 national magazines and books. The most recent book, titled "In this Garden" by Angela Cartwritght and Sarah Fishburn, is a mixed media, exploration of the garden through the eyes of 12 different artists.

For the last several years, Lynn has spent more and more time outdoors painting. Though Plein Air painting is realitivly new for Lynn, she finds this pure and direct form of artist expression one of the most satisfying and deeply rewarding.
2009 Gasparilla Festival of the Arts - Award of Distinction
2006 Coconut Grove Arts Festival - Best of Show Winner
2006 Winter Park Festival of the Arts - First Place Winner
2001 State of Florida - Individual Visual Artist Fellowship and Grant recipient