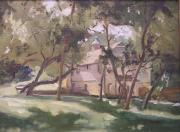 -- AWARD OF MERIT --
"Ft. Mantanzas Park"
16x12, Oil on Canvas
CBPO-174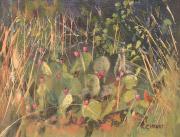 "Prickly Pear Cactus"
10x8, Oil on Canvas
CBPO-175

Click on any picture
to see a larger version.
Kathleen Chenet
Longwood, FL
"Painting is a way of life. To capture what we see sometimes without noticing, is a constant challenge."
Kathleen is a native Floridian, and attended Florida State University where she earned a BA and MA in art and design. Her first artistic interest was as a fiber artist, creating weavings with yarns dyed with native plants. After teaching for several years, she began oil painting with a passion - a passion that has not waned. This has led to a fulfilling and enjoyable career as a full time artist.
Upcoming 2010 Two Person Exhibit, Seminole Community College Art Gallery
Comma Gallery Citrus Exhibit 2009
Winter Park Paint Out 2009
Artist of the Month, Orlando Museum of Art 2008
Tallahassee Chain of Parks Art Festival Award of Excellence 2007