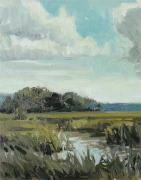 "Skyward"
8x10, Oil on Panel
CBPO-279


"Complimentary Colors"
10x8, Oil on Panel
CBPO-96

Click on any picture
to see a larger version.
Richard Morgan
St. Augustine, FL
"My intent as an artist, is to emphatically develop my skill as a painter. In doing so, I want to push the scale, consistency, and emotional quality of my work. My ultimate goal is to reflect the sensation of being outdoors emotionally and spiritually!"
I enjoy painting 'en Plein Aire' and believe that working on location enables me to capture the true essence of the scene. I'm a full time painter and travel between Florida and Montana - the two places I call home.

I have had various artistic experiences ranging from traditional illustration, computer skills (drawing, painting, story boarding), film theory, art history, and animation. I have taught at Ringling School of Art's much sought after and demanding Computer Animation Department. Many of their graduates go on to Pixar, ILM, Sony, Dreamworks and other high end companies. For over ten years, I worked for Walt Disney Feature Animation as a Traditional Animator. While there I was a part of such films as Pocahontas, Mulan, Lilo and Stitch, and Brother Bear to name a few.
Best of Show - Wine and Chocolate Social, Seeley Lake, MT 2006
Best of Show - Crown of the Continent National Geographic/Alpine Artisans 2009
One man show - St.Patrick's Hospital/Gallery Space - Missoula, MT - Aug/Sep 2009
Honorable Mention - Wine and Chocolate Social, Seeley Lake, MT 2004
Dana Gallery "Paintouts" 2005, 2006, 2007 Missoula, MT