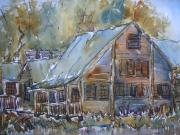 "Saltwater Cowboy's on the Marsh"
20x16, Watercolor
CBPO-198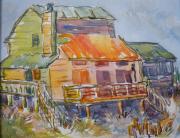 "Old A1A Beach Cottage"
20x16, Watercolor
CBPO-104

Click on any picture
to see a larger version.
Kirsten Andreason
Safety Harbor, FL
"The world of 'en plein air' painting enthralls me. When painting outdoors all concentration is absorbed in the subject matter and portrayal of it. I use color lavishly expressing joy and observing light in the environment."

"Beachside - Vilano Coastal Highway"
20x16, Watercolor
CBPO-106

gallery.me.com/kirstenandreason#100029

Kirsten earned a BFA from Rhode Island School of Design, 1980 as well as a Certificate in Graphics, 1998. She designed in industry in New York City until moving back to Florida in 2000. Since then she has devoted herself to painting on location plein air having studied with premier watercolor painters Patricia Weaver F.W.S., Ingrid Lederer BFA Illustration Parsons School Design, Tony Van Hasselt A.W.S and Frank Webb, A.W.S (DF) N.W.S.
2009 Forgotten Coast Quickdraw, Apalachicola, FL - Participating Artist
2009,08,07 Paint the Town, St Petersburg, FL - Member of the Board
2009,08 Paint in Paradise Invitational, Venice, FL - Participating Artist
2009 Tropical Paradise - One Woman Show - MyClearwater.com
2006 Ribbon Winner - Paint the Town, St Petersburg, FL and Florida State Fair