"Looking Up (three views)"
10.5x23, Watercolor
CBPO-236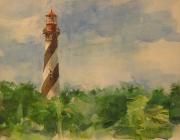 "From Afar"
10x8, Watercolor
CBPO-224

Click on any picture
to see a larger version.
Peter Raymundo
Lake Buena Vista, FL
"Capturing well-lit architecture is the backbone of my work. My basic approach is to start with a relatively tight, fundamentally sound drawing before focusing my painting efforts entirely on lighting and color movement. "
Peter Raymundo's love for painting began in college. However, over the last 13 years, his primary professional experience has been as an animator for Walt Disney Studios. Painting has long remained more of an honest passion than a professional need, which has allowed him to evolve his technique in a very personal, internal way.