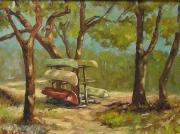 -- AWARD OF MERIT --
"Five at Genung's"
16x12, Oil on Canvas
CBPO-90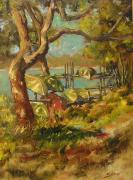 "Seven at Genung's"
12x16, Oil on Canvas
CBPO-91

Click on any picture
to see a larger version.
Charles Schaefer
Palm Coast, FL
"I strive to push my pallette as far as one can, yet make a pleasing painting that is restful and happy to anyone viewing it. I mainly have painted outdoors en plein aire, but have recently been doing larger scale painitngs in my private studio. This has expanded my gallery representation."
Charles Schaefer has been painting professionally for the last forty years. His work is shown in galleries throughout the United States and Europe.

Charles' paintings have been included in an invitational two-year World Tour which has now been extended into its third year due to its success. Charles has been an Official United States Coast Guard Artist since 1992 and will continue that for many more years to come.

For the past five years, Charles has been one of only sixteen artists who paint by invitation at the Art and Garden Festival (Disney) at Epcot Center. An 80 page book has recently been published about Charles, called a "Cool Breeze and a Brush".

Life Is Good....