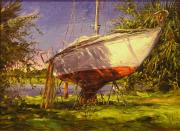 -- FIRST PLACE --
"Xynides Shadows"
16x12, Oil on Linen Panel
CBPO-122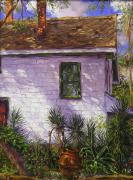 "The Worchester House"
16x12, Oil on Canvas Panel
CBPO-121

Click on any picture
to see a larger version.
Charles Dickinson
St. Augustine, FL
"I find the world in all of its variety an endless source of inspiration. I use bold colors, strong compostions, and solid drawings as the foundation of my paintings to capture what I see and feel. My ultimate goal is to create lasting works of fine art that express the spirit and beauty of nature. "

"Crescent Beach Has Live Bait"
16x20, Oil on Canvas Panel
CBPO-255

Charles Dickinson, a Connecticut native now living in Florida, is a graduate of Paier School of Art with an additional two years of study at Lyme Academy of Fine Art in Connecticut. He has been a professional plein air artist for more than twenty-five years. Dickinson is an award-winning artist that has been commissioned for paintings throughout the East coast and is collected by private collectors internationally. In addition to Dickinson's plein air work he also enjoys the challenges of imaginary studio work.
First Place (Oil and Acrylic), Open Air Arts Spring 2009
Best of Show, Plein Air Appreciation Exhibit 2009, St. Augustine Artist Association
Artist Choice Award, Crescent Beach Paint Out 2008
United Way Award, Crescent Beach Paint Out 2008
Best of Show, Crescent Beach Paint Out 2007