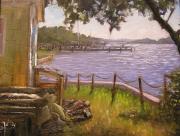 "View from Genung's"
8x10, Oil on Wood
CBPO-191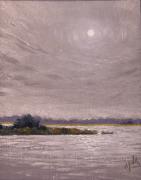 "Tuesday Afternoon, Genung's"
8x10, Oil on Wood
CBPO-185

Click on any picture
to see a larger version.
Tim Malles
Gainesville, Fl
"Landscapes, astronomy themes and public art are some of the targets of my work. My landscape images are inspired by the extreme changes in the environment experienced by our generation. I feel compelled to paint those places that are quickly disappearing and express the emotions that bear witness. "
Tim Malles is a professional artist who lives and works in Gainesville, Florida. Although mostly self taught, he has had, over the years, the opportunity to work with, learn from and be inspired by many of the artists that he admires. Although he enjoys working with various media, he primarily paints with oils on canvas and boards in the plein air style.

He was born in Miami, FL in 1954 and began painting at the age of 10. He has been inspired to paint the Florida landscape all his life and particularly enjoys painting water themes. After the construction of his new studio in 2001, he made the decision to make a full time pursuit of his art career. Tim loves diving into the blank canvas, for such great discoveries await him there!
Accepted - Artist Member, International Association of Astronomical Artists
Participant - 2009 Melrose Open Air Arts
Participant - 2008 Melrose Paint the Town - Second Place Award
Participant - 2007 Melrose Paint the Town
Participant - 2008 Downtown Art Festval, Gainesville Fl