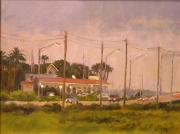 -- THIRD PLACE --
"Before Sunrise"
14x11, Oil on Panel
CBPO-244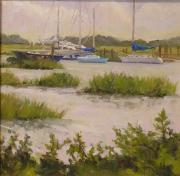 "On the Way to Vilano"
12x12, Oil on Panel
CBPO-241

Click on any picture
to see a larger version.
Elaine Hahn
Holiday, FL
"As an artist raised in the Midwest, the natural beauty of the coastal shoreline has always intrigued me. I particularly like the early morning and afternoon light, which enhances the colors, creating unique and interesting reflections and shadows. "
Elaine Hahn holds a BA and MA in Art from the University of Missouri. While gaining a national reputation in watercolors, her current work in Plein Air and Studio Oil Paintings bring a new dimension to Elaine's work with her paintings achieving prominence through acceptance and awards in major national juried exhibitions.

She is a Signature member of the American Watercolor and the National Watercolor Societies and is a Signature member of the Florida Plein Air Society, a member of the Oil Painters of America and the American Impressionist Society. She has taught and conducted Workshops in the US and Europe and has served as a judge in Art Shows on the local, regional and national levels.
Finalist in the International Artist Magazine, Landscape Challenge #49, February - March 2009
Oil Painters of America, 18th Annual National Exhibition, Sage Gallery, Santa Fe, NM - May 2009
Jury's Top Fifty, Salon International, 2009 Exhibit, Greenhouse Gallery, San Antonio TX - April 2009
Paint America, Mini Top 50 Competition, 2009 Traveling Exhibit - January 2009
Selected for Plein Air Easton Paint Out, July 2009