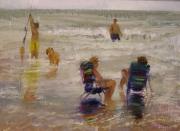 -- SECOND PLACE --
"With Friends at the Beach"
12x9, Oil on Linen
CBPO-264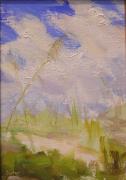 "Dunes and Sky"
5x7, Oil on Linen
CBPO-95

Click on any picture
to see a larger version.
Stacy Barter
Winter Park, FL
"I paint exclusively in oils. I love the fluid feel of wet on wet painting. It is so challenging to try and capture the light as it changes and effects everything I see. The warms and cools that occur in full sun fascinate and challenge me."
Stacy Barter's interest in drawing and painting began in high school when a friend invited her to paint Christmas scenes on watercolor paper note cards. She was enthralled and began sketching regularly in a journal. Her interest in art continued through college, where she took every art history class offered and numerous watercolor and drawing classes as well. Stacy attended Parson's School of Design in New York City and graduated from the University of Central Florida with a BA degree.

After graduating, while working in commercial art, Stacy stumbled into an oil painting workshop by Gregg Kreutz. She saw what he could do with minimal brush strokes... such rich darks, and glowing lights, such depth. It was overwhelming. After that, oil painting became her consuming passion.

Stacy has continued her pursuit of study and this summer she will be spending a month studying with Chinese Master Painter, Hiuhan Liu in San Fransisco.
Best in Show $25,000 Award, Blossom, National Museum Exhibition
Second Prize winner, 2009 Vero Beach Art Show
Best in Show, 76th Annual American Artists Professional League
Oil Painter's of America Award of Excellence at the Eastern Regional
Award of Excellence for Best Still Life, Oil Painter's of America National