-- AWARD OF MERIT --
"Bridge"
8x10, Oil on Panel
CBPO-282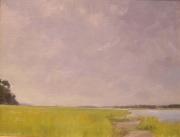 "Guana Sky"
14x11, Oil on Panel
CBPO-118

Click on any picture
to see a larger version.
Steve Andrews
Tallahassee, FL
"I love the process of plein air painting. Being out in nature, being there for more than a glance and being able to observe color and shadow that a phtograph can not convey -- those are only some the benefits."
www.steveandrewsart.com
www.steveandrewsart.blogspot.com
Steve Andrews has painted professionally for 15 years. He is a landscape painter who concentrates on the area in which he lives and was born and raised -- Florida.
Crescent Beach Paintout - Award of Merit 2008
Crescent Beach Paintout - Award of Merit 2007
"At the Coast" - Signature Gallery, Tallahassee 2007
"Shaping a Collection" - LeMoyne Art Foundation, Tallahassee 2006
Tri-State Watercolor Exhibition - Bronze Award 2003