"Up Before the Birds"
12x16, Oil on Panel
CBPO-273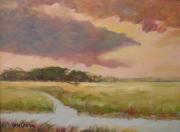 "Gone in a Minute"
16x12, Oil on Panel
CBPO-270

Click on any picture
to see a larger version.
Kate Carney
Mount Dora, FL
"Working in oil, I try to complete a piece in 2 hours so that I'm not fighting the light changes, but sometimes return to a spot over and over trying the capture that moment. That is what plein air is all about..it's the immediacy of one moment when the light and air combine to create a visual moment"
Having been raised and educated in London, England, Kate's education as an artist started in the museums and galleries of London, Paris, Spain, and Italy. Not a bad introduction for a starry eyed little artist. She finds herself continually influenced by the amazing images she absorbed as a child and during art school in London - the treatment of light used by Rembrandt, and the incredible colors of the Impressionists.

Her style has evolved over the years from the either highly photo realistic work or the extremely experimental work we learn to do in college, to an impressionistic style which better expresses her voice as an artist. Now Kate's living and working in lovely Central Florida, along with her husband, 4 kids, 2 large dogs, 3 1/2 cats, 2 turtles, and 3 fish. Kate has a sunny studio in her 140 year old haunted house, and a studio/gallery at her Mount Dora location which is open for visitors on Fridays - if she's not outside somewhere