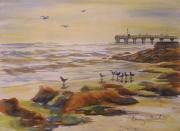 "Morning at the Pier"
11x15, Watercolor
CBPO-210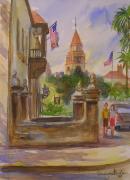 "The Old Governor's Palace"
11x14, Watercolor
CBPO-207

Click on any picture
to see a larger version.
Cindy Sturla
Winter Springs, FL
"I feel it is absolutely vital to work from life ad become a true observer of nature. There is and energy and spirit that comes while working on location. It is that energy and spirit I try to convey in my work."
www.galleryonfirst.com/artists/spurla.html
www.pleinairflorida.com/sturla.htm
I have been painting "en plein air" in watercolor for the past 12 years. I started showing my work professionally in 2000, and have enjoyed traveling around Florida and other parts of the country and world to paint and exhibit. I have studied under the best "plein air" and watercolor instructors, and have actively worked to improve my craft.

I have been part of Gallery on First for the past 3 years where I have a studio, where I work and display my paintings. I have recently begun teaching watercolor. I have been invited to numerous "paint out" events around the state, and love the challenge of creating new work within a few days.
"Taste of Oviedo" poster contest 2002 and 2007
Award of Merit - St. Petersburg Paint Out 2007 and 2009
Award of Merit - Maitland Spring Arts Festival 2004