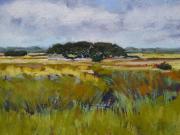 -- AWARD OF MERIT --
"As the Day Gets Brighter"
10x8, Pastel
CBPO-302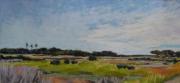 "Butler Park West"
24x12, Pastel
CBPO-132

Click on any picture
to see a larger version.
Lyn Asselta
St. Augustine, FL
"I paint to share my love of the coastal landscape; whether it's a vibrant day with wind blowing papery palm fronds, the quiet hush of marsh grass as the tide shifts, pounding waves on rocky shorelines, or the brave, sturdy buildings in these places. The solitary strength of the coast is my muse."
Lyn Asselta returned to painting in 2004. After almost 25 years of other artistic pursuits, an ever-changing life prompted her to re-examine her artistic career and to look for what truly inspired her. In the midst of this change, she found an old box of pastels leftover from college. Armed with old pastels and newly discovered sanded paper, a new artistic journey began.

Lyn's love of landscape painting comes from a deep connection to the landscapes she has lived in throughout her life. The coast continues to influence most of her work, whether the rocky coast of Maine from her youth and her summers, or the intracoastal marshes of northeast Florida where she lives with her family.

Lyn is a Signature Member of the Pastel Society of America and the Pastel Painters of Maine. She belongs to the Southeast Pastel Society and several local art associations. Her work has been exhibited in national juried shows around the country.
Artist-in-Residence, Acadia National Park, Maine - September 2009
Richeson 75 International Pastel Competition
12th Annual Int'l Assoc. of Pastel Societies (IAPS) Exhibition