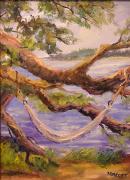 "Aah, Life is Good"
16x12, Oil on Canvas
CBPO-220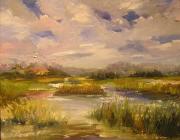 "October on the Marsh"
20x16, Oil on Canvas
CBPO-154

Click on any picture
to see a larger version.
Marilyn Masters
Ormond Beach, FL
"I am inspired by the light outdoors and enjoy painting nature. I especially love the water and sky at different times and weather conditions. I also enjoy painting people."

"Jaime at the Fountain of Youth"
16x20, Oil on Canvas
CBPO-155

Marilyn graduated with an AA Degree from Middlesex County College, Edison NJ. While there, she studied privately with artist and teacher Charles Nevad. Marilyn has also studied portraiture with Donald Renner in Daytona the past 5 years and attended watercolor workshops including ones by Peter Spataro and D. Kennedy.
Award of Merit - 2008 Crescent Beach Paint Out
First Place Award - Pallet & Brush Club, Daytona
One Woman Show, Island Fine Art, St. Augustine, 2008
One Woman Show, Metropolitan Gallery, Ormond Beach