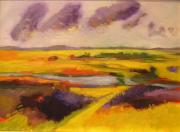 "Permission"
16x12, Oil on Panel
CBPO-169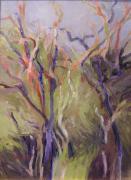 "Dance"
12x16, Oil on Panel
CBPO-170

Click on any picture
to see a larger version.
Trish Vevera
Ormond Beach, FL
"With sea, sky or tree before me, I gesture my painting surface with organic movements. I transcribe the essence of the landscape into colors, textures, and shapes. I document not only the history of the landscape, but also the history of the painting's surface."
fineartamerica.com/profiles/trish-vevera.html

Trish has taught art at high school, community college, and private levels. She was actively involved in exhibiting and showing her work prior to moving to Florida. She had four one-woman shows from 1993-1999 in Illinois along with several group exhibitions. She showed at outdoor shows in Illinois and Indiana.

Trish still participates in outdoor fairs, shows with several arts organizations, and attends paint-outs. Besides these, she exhibits at galleries throughout Central Florida.
Honorable Mention - 2009 St. Augustine Art Association Plein Air Show
Honorable Mention - 2009 Artists Workshop Landscape Show
First Place - 2008 Ponce Inlet Members Guild Show
Award of Merit - 2008 Crescent Beach Paint Out