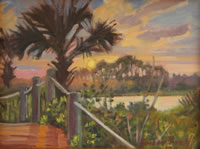 Tropical Sunset
11x14 Oil on Canvas
Barbara Perrotti
Ormond Beach, Florida
www.barbaraperrottistudios.com
Combining a love of people and nature, you can find Barbara almost always painting outdoors, feeling just as much at home in the city, at the beach or deep into the landscape. She began her art career as a classical portraitist and switched to landscape and now combines the two.
Barbara is proficient in the mediums of oil, pastel and acrylic. She has a regular following of students, and is often on the road teaching workshops and taking part in plein air invitationals. She is listed in Who's Who in American Art and was photographed painting out on location for the premier issue of Plein Air Magazine. Commissions are welcome.
Artists Statement:
My first concern in painting is to establish abstract rhythms; that is when I can feel the music begin. As I push toward reality, my thoughts are focused on consistency of stroke, the simplicity of the impression and above all else, my love of painting.