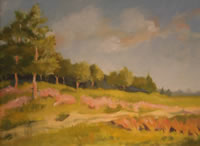 Morning Gold
12x16 Oil on Canvas
Jessie Cook
Palm Coast, Florida
Jessie Cook is a contemporary impressionist, working in oil on canvas.

After moving from New York to Florida in 2005, she turned her focus from painting still life to landscapes. "Painting has long seemed to me a natural thing to attempt, a means of visually walking around a still life, a landscape, or a figure. A way of meditating on a scene, a way of being more 'there,' and an attempt to convey what that means to me."

Jessie has been painting en plein air for the last three years and often uses her plein air paintings as a basis for larger studio works.

She has studied with John Phillip Osborne, Sherry Camhy, and Mary Ana Goetz.