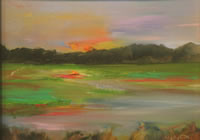 Marsh Sun Rays
9x12 Oil on Canvas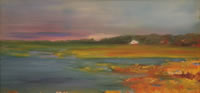 Intercoastal Overlook
8x16 Oil on Canvas
Grayson Conroy
Vero Beach, Florida
"When power leads man towards arrogance, poetry reminds him of his limitations, the artist becomes the last champion of the individual mind and sensibility against an intrusive society"
This quote by John Kennedy is ever more representative of the job we have as artists to show the truth about humanity whether in literature, poetry, painting, sculpture, art, comedy or music, classically, good and evil, the eternal "Pacobels Canon".
I think painting should touch and be a conduit to the collective human subconscious. As color represents musical notes, it can bring about the same feelings evoked by Paco Bel's Canon in D, Samuel Barber's Adagio in Strings, or Ava Maria. Thus, music and painting are both poetry to the soul, carrying us all well beyond our limitations.