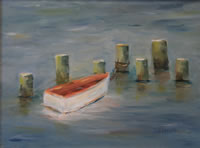 Lonesome Lady
9x12 Oil on Canvas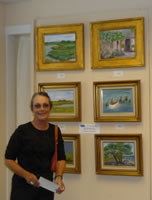 Jill Cerulli
St. Augustine, Florida
Jill Cerulli, born and raised in the Upper Peninsula of Michigan, started painting while living in a small town in Wisconsin in 1980. She moved to Minnesota in 1981 and continued her painting while attending classes for many years at the Minnetonka Center for the Arts.
In 1993, she moved to Jacksonville, FL participating in various art classes and shows. She has been very active at the St. Augustine Art Association, where she has been selected for many juried art shows, won numerous awards for her work and has a piece in the Permanent Art Collection.
Jill served on the Board of Directors for the St. Augustine Art Association for 3 years and was the Docent Coordinator for 7 years. She enjoys and is inspired by painting outdoors and is a current member of the Plein Air Artists of both city of St. Augustine and the state of Florida.