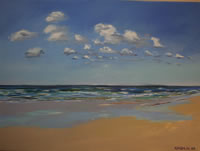 Crescent Beach '08
49x66 Oil on Canvas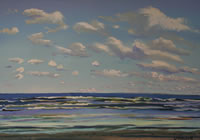 Crab Claw Clouds over Crescent
48x61 Oil on Canvas
Peter Carolin
Gainesville, Florida
Beneath a billowing thunderstorm, as waves crash over furious purples and pickle-greens, a gap of redemptive light from a dying sunset promises a clearer, better day tomorrow.
On a sunny day, even the shadows are dancing with creamy blues and lavender in a world that is pink, green and golden.
The beach is an excellent location to paint. Whether the colors are bright or brooding, the incessant movement of the wind and the waves on the water command complete attention.
The ocean challenges the seaside visitor to contemplate its greatness. With a little time, the artist steals a piece of the power and beauty of this place. The white horses on the waves race after the artist, who only narrowly escapes with an image as the sun falls down, and the tide rolls in.