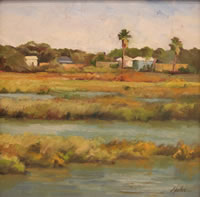 Butler Beach
12x12 Oil on Linen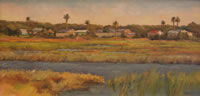 Treasure Beach
12x24 Oil on Linen
Elaine Hahn
www.elainehahnart.com
Elaine Hahn, AWS, NWS,(www.elainehahnart.com), is a native of Kansas City, Missouri, where she attended the Kansas City Art Institute and holds a BA and MA in Art from the University of Missouri. She has studied with noted artists throughout the United States, England and Mexico. Her early career was influenced by her experience at Hallmark Cards in Kansas City.
Her paintings have achieved prominence through acceptance and awards in major national juried exhibitions and her works are included in private and corporate collections throughout the United States. Elaine has also won awards at many of the Art Festivals where she has exhibited. She has taught and conducted Workshops throughout the Southeast and Europe, and has served as a judge in both local and national Art Events.
She gained a national reputation in watercolors, where she earned Signature Memberships in both the American Watercolor Society and the National Watercolor Society. Her current work in Plein Air and Studio Oils, bring a new dimension to her art, where her work has been included in and won awards in Oil Painting Competitions on the local, regional and national levels. She is a member of the Oil Painters of America and a Signature Member the Plein Air Florida Society.
Her work has been published in several Art Books including Best of Watercolor, Watercolor Magic, the Splash Series by Northlight Books, and the Best of America Series by Kennedy Publications. She has been the featured Artist in the Décor and Art Business News Trade Publications. Her work was recently included in the Richeson-75, Small Works Collection.
She now resides in Florida where she focuses her efforts on developing and expanding her Oil painting techniques working in her studio on the Gulf of Mexico, capturing images of the beautiful coastal and marine subjects in the area, and traveling for painting and Plein Air Events throughout the United States and Europe.